Let's face it – running a fitness business online is not easy, especially if you are on your own. You have so many things to worry about – what products or services to offer, how to market your brand, where to promote your products or services, and much more.
What if we told you that there is an easier way to manage your fitness business online?
By using an ecommerce platform, you can leave all technicalities on the side and worry about running your business and making your customers happy and satisfied.
When it comes to choosing software for your online fitness business, the possibilities can seem endless.
In this article, we will present the best ecommerce platforms on the market to help you manage your fitness business online in 2020.
Top 10 Best Ecommerce Platforms for Online Fitness Businesses
Different businesses have different needs depending on their sales volume, the products or services they offer, and other factors.
Here are the best ecommerce platforms to run your fitness store in 2020:
Shopify
Shopify is on top of our list and apparently on top of everyone's list. It is one of the most popular ecommerce solutions for fitness stores because of how easy and simple it is to launch a new website. This makes Shopify popular with smaller brands.
Depending on the order volume and features, Shopify's monthly pricing can vary from $29 to $299.
Shopify Plus
Shopify Plus is an enterprise ecommerce solution created to meet the needs of merchants who have outgrown their basic Shopify setup and need more features and options. Shopify Plus also allows merchants to create a responsive, customized checkout experience.
The price can vary and is based on a variety of factors including technology, order volume, customization, and design.
While more expensive than other ecommerce platforms, Shopify Plus can be a great option for scaling your fitness business.
BigCommerce
If you are looking for the easiest way to manage your online fitness business, BigCommerce is an excellent option to consider. With a wide variety of features, BigCommerce can meet the needs of both startups and enterprise-level merchants.
Features include advanced security, industry-leading uptime, order fulfillment partnerships, payment, and many other built-in integrations.
WooCommerce
WooCommerce is a WordPress plugin you can use free of charge. It allows e commerce merchants to turn their websites into ecommerce stores.
It is one of the most popular ecommerce platforms in the world with its own shopping cart and payment processor included. The platform can be a great option for smaller fitness businesses.
WooCommerce is the only free ecommerce platform, however, it costs extra money to integrate the ecommerce option.
If you expect your fitness business to scale quickly, consider choosing Shopify or BigCommerce. WooCommerce can slow down as more products are added to your online store.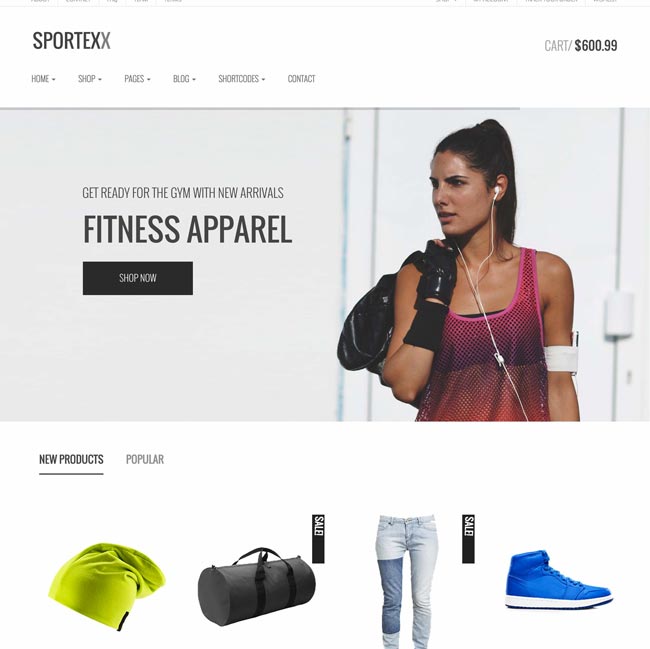 Magento
Magento is another great way to manage your fitness business. It is tailored to enterprise-level businesses and as an open-source ecommerce platform, Magento demands developer resources and programming experience.
The platform offers a wide variety of features for sellers including unlimited product listings, the ability to offer discounts, recurring payments, and more.
The basic version is free and the enterprise version can cost up to $20.000 annually.
Squarespace
This platform is known for drag-and-drop templates and simple design that makes it easy to build functional and beautiful websites. They offer many of the features and tools needed to build an online store.
Squarespace also supports recurring payments, multiple variants, unlimited product listings, marketing tools for abandoned cart recovery, and other advanced features.
Volusion
Volusion is a smaller ecommerce platform perfect for newer online sellers. The platform offers a variety of pricing plans, from more affordable ones for smaller merchants to more expensive plans to use as you grow your business.
You can find a wide variety of themes, discount code creation, in-site blogging capabilities, and more. Its app options and integrations are limited, making it more of a tool for startups and small businesses.
Big Cartel
BigCartel is an ecommerce solution created for sellers looking to sell their own products. If you've created a unique product and want to share it with the fitness community online, this is a perfect platform for you.
Sellers can customize the free themes the platform offers or code their own unique designs.
BigCartel offers a lot of great features such as the ability to use a custom domain name, real-time sales stats, inventory tracking, the option to add discounts and promos to specific products, and more.
The monthly prices are based on how many products you list in your store. You can start for free adding 5 products or less or pay $29.99 a month and list up to 300 products.
Wix
Wix is a basic ecommerce software solution, making it perfect for brand new fitness businesses. With over 70 free themes and easy setup, Wix is a great option that offers enough features for fitness experts to get started. Wix's online store hosting is very affordable, starting at $20 a month.
Salesforce Commerce Cloud
Known as Demandware, SCC or Salesforce Commerce Cloud is a popular cloud-based ecommerce solution tailored to B2C businesses.
The platform integrates with a range of other marketing and CRM services, making it an excellent choice for enterprise-level fitness businesses and brands.
Other features include AI and personalization, order management, and globalization options.
Commerce Cloud is great because it can handle high volumes of traffic, but with a high price tag, it is not a good fit for smaller businesses that are just getting started selling fitness products or services online.
When it comes to finding the best ways to manage your fitness business online, there is no one-size-fits-all solution for every business or store. Consider your fitness business's future growth, sales volume, and target audience and choose an ecommerce platform.
We hope our list will help you make the best decision. Read more about https://houseoffitnessla.com/top-10-fitness-instructors-to-follow-on-instagram