For fitness instructors, social media is without a doubt the best tool for growing a fitness business and brand.
As we can see from some of the top fitness influencers like Bedros Keuillian, Shona Vertue, Jamie Alderton, Kayla Itsines, and others, there is a huge appetite for fitness-related content on Instagram and social media platforms in general.
As a fitness entrepreneur, you can't afford to ignore this channel when building your branding and marketing strategy.
In this article, we will discuss some of the best ways you can use to maximize the effectiveness of social media platforms.
Inspire, Educate, and Entertain
People on social media want to be entertained, see what their friends are up to, and be informed about what is going on. They are not there to be sold products or services. If you always post content that is too pushy and overly salesy, you will get passed over quickly.
It is better to base your content around inspiration, education, and entertainment. You can post photos of your client's transformations or share inspiring fitness content from other pages. Educate your followers with valuable information about fitness, wellness, nutrition, and a healthy lifestyle in general. Give them advice that makes it simple for them to implement. Don't hesitate to inject a bit of your personality – people want to be entertained.
Be Patient and Post Daily
One mistake fitness professionals make when they first attempt marketing is that they give up after a few weeks. The reason is that they expect to see results straight away. You need to keep in mind that growing your fitness business's presence is a sprint and not a marathon.
Some people also go down the route of purchasing fake followers. In most cases, this doesn't end well, especially on Instagram. It looks really bad when you have all those followers and none of them engaging with your photos.
It is better to post every day on all your social platforms.
You can share an article of relevance to your fitness business and the products or services you offer, post photos and videos of your classes, your timetable and programs for the week, post a workout tutorial which can be a photo, video or blog post, post nutrition tips which again can be a photo, video or blog post.
Don't Forget About Ads
Instagram and Facebook ads are the most popular option for small fitness businesses to promote their products and services online. The reason for this is that they are cheap in comparison to traditional means of advertising.
These two platforms are also where the majority of the world are spending their free time. The advantage of using these ads is that you can target your ideal clients. If you have a couple of demographics you would like to target you can run a selection of ads with separate creative and copy that is suitable to the clientele you are targeting.
When creating ads for Instagram and Facebook, always use good quality photos and videos, create a promotion for your campaign that gives value, and have a dedicated landing page where the visitor can go once he has clicked through the ad.
Build Communities
Using social media to promote a fitness business is easier when you have people who support you. One of the main goals of a fitness entrepreneur should be to form a community. You can achieve this through social media:
You can create Facebook groups. The groups are useful for forming closed groups of members of your gym, fans of your online store, etc. In your group, you can post specific content and create a place your members can communicate and interact.
Always use a hashtag (it is especially effective on Instagram). It is best to have a specific hashtag for your fitness studio to help spread the word about your fitness business. People will share images of themselves going to your gym or buying your fitness apparel so they can show off to their friends and followers on social media. A hashtag may increase the visibility of your posts. There are three types of hashtags you can use – content hashtags, trending hashtags, and brand-specific hashtags.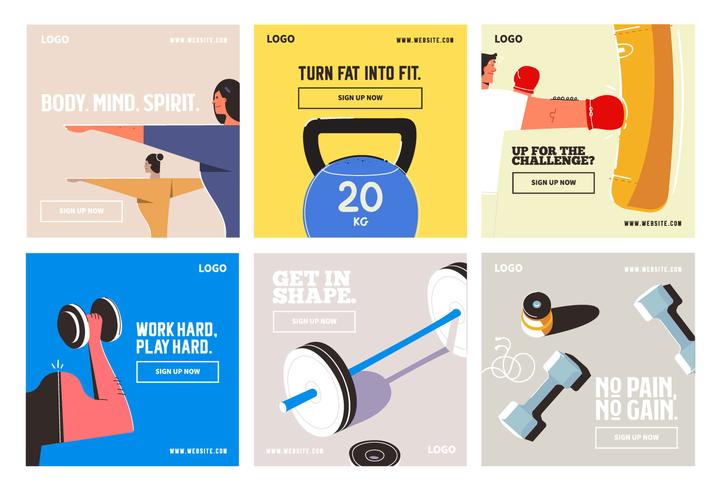 Work on Your Instagram Stories
Since Instagram Stories was launched, it has become a dominant content sharing platform. Every major fitness brand and influencer is sharing Instagram stories every day. At least two million brands are using Stories and a third of them viewed are from businesses and brands.
Instagram Stories allows users to post photos and videos that last for 24 hours. Instagram has placed stories at the top of the feed which gives businesses the chance to get their products and services immediately in front of followers.
Known as one of the best social media tools to promote fitness business, Stories are a fantastic way to create excitement for an upcoming event, store opening, new class or simply to give your followers a sneak peek of your daily activities.
There are lots of options with Stories like hashtags, location tagging, gifs, polls, stickers, and much more which allows brands to boost their followers and increase engagement.
Using Fitness  Influencers to Market Your Business
Influencers are people who have impressive social media followings, especially on Instagram. Influencer marketing has become so popular that big brands have dedicated huge budgets to represent them. The world of fitness has been impacted by this trend.
How do you get in on this trend?
You don't need someone of Kayla Itsiness or Shona Vertues level of fame. It is important to find someone with at least 10k followers and is posting daily about fitness and health.
Once you find a potential influencer, direct message them with a pitch about marketing your fitness business, offer them free classes and training sessions and in exchange get them to post about your fitness program.
Hopefully, this article has given you an idea of how to use social media to promote a fitness business and what it takes to be successful on Instagram and Facebook.
Articles that may be of interest to you: